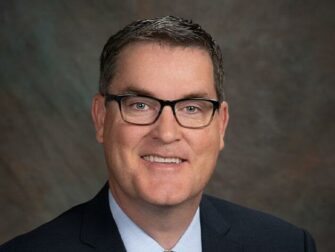 First Dakota welcomes two Wealth & Trust advisors to Sioux Falls and Mitchell teams
Sioux Falls, S.D., March 4, 2021 — First Dakota National Bank welcomes two new Wealth & Trust advisors to the teams in Sioux Falls and Mitchell. Lisa Richmond-Kirby joins First Dakota as Vice President and Wealth & Trust Officer in the Sioux Falls market, and Jason Spicer as Wealth & Trust Officer in the bank's Mitchell market. First Dakota Wealth & Trust, the fiduciary investment department of First Dakota National Bank, helps clients develop a financial roadmap to help simplify their financial future.
"We are excited to have Lisa and Jason on the First Dakota Wealth & Trust team! Lisa's experience in trust administration, and wealth and estate planning; and Jason's specialization in investment management, and retirement planning will play a significant role in how we continue to build relationships and serve our communities across the state," said Tyler Bowen, Senior Vice President and Manager, First Dakota Wealth & Trust.

Richmond-Kirby joined the First Dakota team in Sioux Falls at the beginning of this year, bringing with her over three decades of wealth and estate planning experience. Over the years, she has built long-term relationships with clients across the state including the Mitchell market in her previous roles. Her current professional community involvements include the Sioux Falls Estate Planning Council and Women in Law. She has also served as a board member for Children's Home Society and the Children's Inn for the majority of her years living in Sioux Falls. She received her Bachelor of Science degree in Political Science from the University of South Dakota, and her Juris Doctorate degree from the University of South Dakota School of Law. She is a graduate of the Cannon Financial Institute Trust School as well as the ABA National Trust School, Northwestern University.

Spicer started in his role at the Mitchell branch in September of 2020, specializing in trust administration, investment management, and retirement planning. Previously, he worked at First National Bank of Sioux Falls specializing in Retirement Plans and as a financial representative at Northwestern Mutual. Though a Sioux Falls native, Spicer has a strong connection with Mitchell as an alumnus of Dakota Wesleyan University where he was an All-American on the men's basketball team and received his Bachelor of Science as well as Master's degrees. He has recently been involved in Junior Achievement, Mitchell Area Chamber of Commerce Network and Ambassadors Committees, and the Dakota Wesleyan Team Makers Committee.