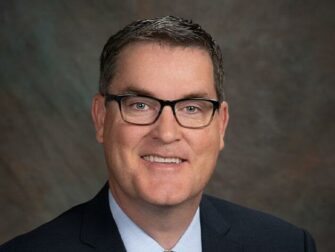 What's in a name? For us, a whole lot. We are delighted to introduce you to First Dakota Wealth and Trust, a fiduciary, fee-only wealth planning and trust services firm under First Dakota National Bank.
We believe in properly coordinating our client's finances to give them a structured, cohesive path to reach their goals. We are excited to have a platform to communicate what we do and how we best serve our clients every day.
What does this name change mean for you? Today, we are going to explore five key tenets of our philosophy and commitment to clients.
Sharpen and clarify your financial picture
Since 1928, First Dakota National Bank has assisted clients with fiduciary investment management and trust services. Our name is changing but our commitment to providing quality wealth planning, investment management, and trust services remains the same.
When we work with clients, we don't just see one aspect of their financial plan. We see how each piece works together and informs the other. This process means listening to you and understanding your unique needs, clarifying your goals, values, priorities, and making a plan to implement that strategically.
We want to know, understand, and develop the whole scope of your financial life. Your financial plan should be a reflection of your goals and values, and we work collaboratively to ensure that happens.
Coordinated wealth planning
Let's start this section off with a client case study.
Linda Lane recently became a client with us. The passing of several family members meant she inherited money from multiple sources, leaving her confused and overwhelmed. Her financial junk drawer was full of different mutual fund companies, IRAs, brokerage accounts, and more totaling about 16 separate accounts.
We helped Linda intentionally consolidate her accounts to create a coordinated, manageable strategy that supports her financial goals. Instead of being swept away by a paper blizzard, Linda walked away with a plan she could rely on.
That's the true meaning of what our team does: bringing expert advice to coordinate a plan that enriches your financial goals. To best accomplish this, we take a life-centered view of your finances, leaving no stone unturned.
Think about it in terms of a doctor. If you go into your doctor due to knee pain, they will still take your pulse, check your lungs, and examine your vitals before making a diagnosis and recommending treatment plans.
We do the same thing with your finances. Each piece of your financial life is connected and we want to show you how to make the most of those networks with top tier recommendations and advice.
For us, personal finance is more about the personal aspect than it is about finances. We want to help you examine your goals like retiring early, funding a grandchild's education, buying your dream house, etc. and organize your assets in a way to support them.
Our Wealth & Trust Advisors actively listen to your needs, clarify what is most important to you, then develop and implement a life-centered plan to save, grow, and protect your financial assets for years to come.
This philosophy helps you use your wealth in a way true to your values and priorities, bringing intention to your wealth-building strategy.
Personal, local service
In the financial industry, trust is the most valuable asset. We seek to build trust with our clients every day with personal, reliable service. It is always great to work with people who know and care about you, and that is the environment we foster for our clients.
Our Wealth & Trust Staff are located in Yankton, Sioux Falls, and Mitchell areas and allow us to directly serve clients in all of these or surrounding communities. We are no stranger to the digital age and also love serving clients from all over the United States. We can meet you in our boardroom or at your kitchen table; it is up to you. Serving our community and clients in a way that will work best for them is our top priority.
As we mentioned before, we are a collaborative team that works together to help you craft the best financial plan for you and your family. To function smoothly, we work closely with your trusted legal counsel and tax advisors to develop a game plan for your financial success. This collaboration provides a more high-touch, thorough service.
Added commitment to trust services
When it comes to trusts, we are the experts through and through. Our team understands the value of a well-crafted estate plan, and trusts are often a big part of that conversation. In addition to South Dakota being a great state to house your trust, our team also offers clients another important benefit, serving as a trustee.
What does this mean? The Wealth & Trust Department holds the trust powers for First Dakota National Bank, which allows us to serve in a trustee capacity for new and existing clients. We serve clients throughout their lifetime, during incapacity, and even after death.
As your trustee, we can follow the wishes of your estate plan and ensure everything gets done in the way you want and need it to. Estate planning can be difficult for many people and their families, but with a trusted professional by your side, you can have peace of mind that your estate is in good hands.
Fiduciary investment management
We take our fiduciary commitment seriously, meaning that everything we do and recommend is in your best interest and seeks to enhance your financial interests, not ours. We create and manage your plan in a way that is true to you and your goals. Let's take a look at how we uphold our fiduciary responsibilities.
Always serve in a fiduciary capacity: We act as a fiduciary to all clients, uniquely. We have a legal responsibility to put the needs of our clients above our own in everything we do.
Our firm is fee-only: We don't sell any products or earn commissions from our recommendations. Client fees are our sole mode of compensation.
Experienced, trusted professionals: Our professionals have over 100 years of experience in various areas of the financial industry. We manage a large pool of assets for a small number of households, which allows us to provide high-level service to all of our clients.
We believe in complete transparency: Our compensation is agreed to in writing. We don't have any back door arrangements or hidden compensation.
Independent: Our independence empowers us to advise you free from conflict of interest, and provide our clients access to some of the best research and most reputable investment firms in the country.
Operate under a team approach: We take a team approach to work with clients, which often includes outside professionals like lawyers, CPAs, real estate professionals, etc. This brings together various areas of expertise in a cohesive manner.
Our next chapter
First Dakota Wealth & Trust is a new medium for us to perform the top tier financial services we have been providing for over ninety years. We are so happy to welcome you to this new chapter and can't wait to continue serving you for many more years to come.
First Dakota Wealth & Trust is the fiduciary investment department of First Dakota National Bank with trustee powers to serve clients during their lifetime, during incapacity, and after death. We help clients develop a financial roadmap to help simplify their financial future.
Please note that neither First Dakota National Bank nor First Dakota Wealth & Trust Department, or its employees provide tax or legal advice. This is intended for informational purposes and is not intended to constitute legal or tax advice. Please consult your attorney and/or tax professional for advice related to your specific situation.