Cash Management Options
Contact our bankers if you're ready to add cash management and merchant services to your business. Or contact us to start discussing what services can help your business be more efficient.
Online Cash Management System
Streamline your payroll, accounts payable, and accounts receivable with Electronic ACH Processing. Receive email alerts for ACH files initiated and processed.
Keep funds and communications moving. Get email alerts for online wires transmitted, and email or text alerts for incoming wires.
Streamline your account balancing. Reconcile cleared checks in minutes vs. hours. Choose from full, partial, and deposit reconciliation. Receive email or text alerts for unmatched reconciliation items.
Virtually eliminate check fraud and encoding errors in two easy steps: upload file of issued checks, and review and process exceptions as checks clear. Get email or text alerts for positive pay exceptions
"First Dakota's cash management team has been excellent to work with. They are always willing to help, ready with an answer to our questions, and prompt at responding to any need we have. They understand the balance between the needs of our business and their needs for compliance in a way that is not burdensome to our operations but still allows them to satisfy their processes."

- Taco John's of Iowa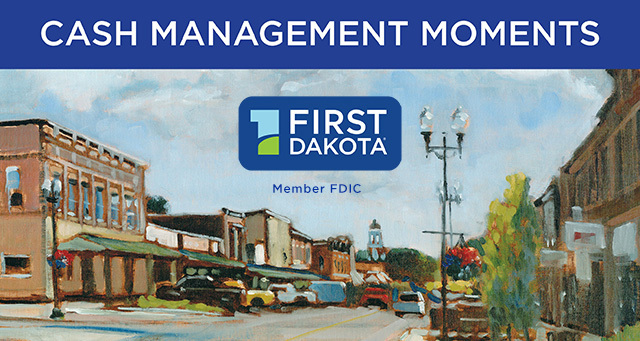 Cash Management Moments
We recognize there can be a lot of information to absorb when working with our Cash Management products. We want to help you work smarter, not harder, so we are sharing several short training videos.
These videos are designed for you to be able to watch in a few minutes. They may also contain important information regarding updates and/or changes, so please enjoy.